Explore a new approach to business headshots
By Erica Turley | 15 March 2018 | Blog, Business, Feature, Tech Talk
Nail stylist, Erica Turley, reveals why she's shying away from corporate-style headshots and expressing her creativity with a new style of portrait to help build her brand…
New Year, new photo!
I needed a new headshot/business portrait as I no longer have long, grey hair and I don't wear a pink tunic to work in. I love my corporate headshot, yet as a year has passed, it no longer reflects me, my personality or my work.
I have a very exciting year ahead and wanted a fresh start to 2018 – with a new image. My new image will be shown at Professional Beauty London in February, at which I'm holding a seminar about the power of the blog. I'm also set to become an educator this year, which I'm so exciting about. I work so hard and am so passionate about what I do, so I can't wait to help and teach others and pass on that enthusiasm thats continuously bursting out of me.
I also plan to do some competition training this year, (if I can fit it in) so I'm calling on my buddy and fellow Scratch blogger, Katie Barnes, for her help with that one! Her competition training courses look awesome. So all in all, 2018 is a jam packed year, and with all the exciting events, I needed to revamp my website and image to build my brand.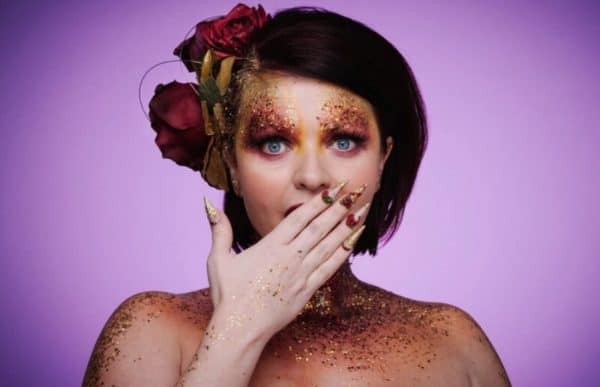 I am actually a very introverted – verging on shy – individual. However, there are times when I surprise myself and I become a confident, competitive individual who has clear direction about her life and career. When I say competitive, I don't mean with others, but with myself. I am always pushing myself to improve my skills and techniques and I draw inspiration from others. I'm a stereotypical a girly girl, and like most nail techs, I'm obsessed with glitter and anything that shimmers so interpreting all of the above into a headshot (or business portrait as I prefer to call it), was certainly the plan.
I did think long and hard about the decision not to go for a corporate-style headshot, but I have gone against the grain and I actually quite like it. Whats wrong with being different? Why not? I tell you what though, it certainly makes your profile on LinkedIn stand out from the crowd!
My picture represents my true self. I've always felt as if I was in someone else's shoes and never really fit in (in a career context). I feel like I've found the industry I'm meant to be in. I'm extremely happy with my career choice and becoming a nail artist has been the best decision I've ever made. It's family friendly, I've never had the opportunity previously to travel to cities across the UK, having my own stage at a trade show, or attending black tie VIP events with world famous nail techs! It's all very exciting and I would urge anyone who's thinking about becoming a nail tech to seriously look into it. Don't get me wrong, I've had to work extremely hard to get to the point I'm at in my career.
Regarding portraits, finding the correct team to help you achieve your goal is key. I don't always get the opportunity to really explore my creative side, and my friend, Anna Morgan, from Beauty Vanity, Stafford, who was the MUA on the shoot was also in the same boat, therefore we saw this portrait as an opportunity to be let lose! The glitter was given to me by Smileys Glitter Store and the crystals were given to me by The Unicorns Den.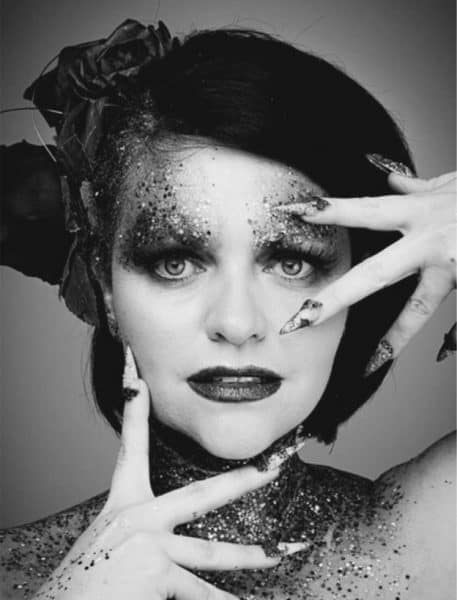 My hair stylist, Sarah Mason from Masons Boutique, Stone, has been my hairdresser now for quite some time, and opened her salon just for me. I was super pleased and touched she came to work from her holiday just to do my hair for the shoot.
My photographer, Daniel Moore, from Daniel Moore Photography, Stone, is someone I've known for quite some time, too. I first met Daniel when he did our family photo shoot back in 2015. We have four children and I was blown away with the pictures he captured. How he managed to get such creative shots of our kiddies was outstanding. I remember crying when I saw our beautiful pictures. I spoke to Daniel not so long ago and mentioned about the creative spin I wanted on my new business portrait.
Days of planning, telephone conversations, emails, practices going four ways it all came together, better than I expected. Prep for the shoot took two days from doing my own nails, to seeing Sarah, then seeing Anna, then travelling to Daniel's studio.
I never thought I would ever say this, but after the shoot I was so glad to get all that glitter off me as it was actually in my mouth, ears, down my top, stuck to my head and I'm still finding glitter on me now after numerous showers!
My chosen pictures are now featured on my new website www.ericaturley.com and I am so pleased with them.
If you're thinking about a new business portrait, maybe give something different a go? Stand out from the crowd!
Erica Turley