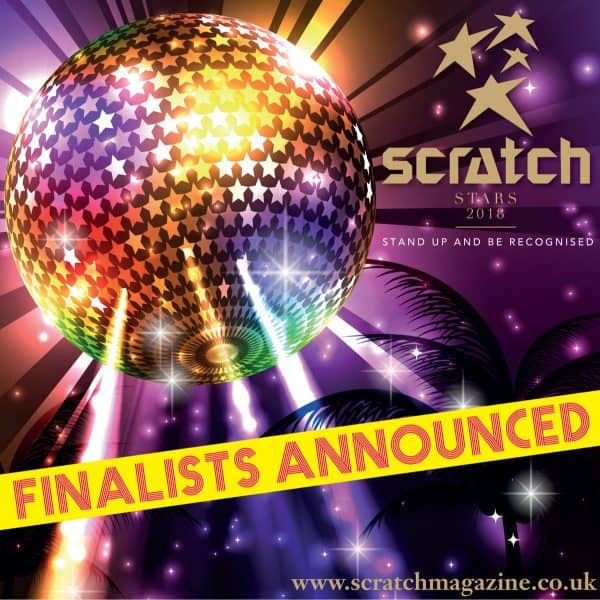 Competition Start Date
9 April 2018
Competition End Date
9 April 2018
Scratch Stars Awards 2018: Finalists announced
THE SCRATCH STARS AWARDS 2018: MEET THE FINALISTS
The results are in! See which techs, salon, teams and influencers have made the grade in the Scratch Stars Awards 2018 and count down to Scratch's hotly anticipated Summer Party – at which the winners will be announced…
L&P Tech of the Year sponsored by:

Carrie-Leigh Allen, Preston

Fereida Lydiate, Manchester

Jayne Packenas, Hertfordshire

Katie Barnes, Warwick

Virag Timar, London

Gel Tech of the Year sponsored by:

Agnes Dullo, Bognor Regis

Andreea Simona Ignat, London

Jo Wickens, Newton Abbot

Oksana Smirnova, Norwich

Paulina Zdrada, Leeds

Natural Nail Specialist of the Year sponsored by:

Antonia Catalano, Peterborough

Elise Scholes-Pilkington, Newcastle-under-Lyme

Ilex Wood, Doncaster

Julie Lee, Lancashire

Sammy Macdonald, Aberdeen

Educator of the Year sponsored by:

Charli Jepson, Blackburn

Danielle Walker, Scunthorpe

Erin Adeyemo, Bedworth

Rachel Lunn, Birtley

Rebecca Abernethy, Stockport

Polish & Paint Artist of the Year sponsored by:

Amanda Hawtree-Taft, Aylesbury

Carrie-Leigh Allen, Preston

Gail Nicholls, Tamworth

Leila Monroy Lopez, Edinburgh

Tracyann Hutchins, Berkshire

Mixed Media Artist of the Year sponsored by:

Hazel Dixon, Thetford

Kayley Cairns, Essex

Lorna Andrews, Burnley

Melanie Lewendon, Derbyshire

Sinead Bulley, Cambridgeshire

One Stroke Artist of the Year sponsored by:

Alexa Kisgyori, Milton Keynes

Luz King, High Wycombe

Neringa Alsauskiene, Cheltenham

Rachel Willis, Middlesbrough

Rebecca Isaac, Northampton

Gel Polish Stylist of the Year sponsored by:

Oksana Smirnova, Norwich

Olivia Oldfield, York

Rachel Willis, Middlesbrough

Rebecca Butterworth, Barnsley

Virag Timar, London

Nail Stylist of the Year sponsored by:

Debbi Gess, Blyth

Hazel Dixon, Thetford

Jo Wickens, Newton Abbot

Katie Barnes, Warwick

Paulina Zdrada, Leeds

Services to the Nail Industry sponsored by:

Anna Lee, London

Georgie Smedley, Essex

Hazel Dixon, Thetford

Kirsty Meakin, Stoke-on-Trent

Rebecca Abernethy, Stockport

Session Stylist of the Year sponsored by:

Ami Streets, Birmingham

Kate Cutler, London

Nickie Rhodes-Hill, Kent

Best UK Nail Blogger sponsored by:

Alice Sanderson – One Nail To Rule Them All

Marta Nagorska – Furious Filer

Natasha Lee – Natasha Lee

Samantha Tremlin – The Nailasaurus

Best Use of Social Media

Image Beauty Salon, Ipswich

Little Blank Spaces, Inverness

NAF! Salon, Glasgow

The Nail Boutique, Billericay

The Nail Tech Network

Mobile Nailist of the Year sponsored by:

Helen Burton-Ward – HBW Beauty, Middlesex

Joanna Tompkins – French & Drench, Surrey

Julie Blackwood – Blackwood Beauty, Livingston

Maddie Webster – Personal Touch Massage & Beauty, Cheltenham

Metta Francis – Nails By Mets, London

Nail Team of the Year sponsored by:

Brillbird UK

HD Nail Artist Academy

Jade Angel

Nail Harmony UK

The Nail Team

Nail Environment of the Year sponsored by:

Aesthetics, Solihull

Image Beauty Salon, Ipswich

Jade Angel, London

The Nail and Body Boutique, Surrey

Tweezers Beauty, Bedworth

Nail Salon of the Year sponsored by:

Beauty Lounge, Doncaster

Buff, Edinburgh

Coco Nail Bar, London

NAF! Salon, Glasgow

Pastille Beauty Bar, Leeds

The Shooting Star Award

Amy Ganney, Essex

CJP Nail Systems, Stockport

Jessica Wallbridge, Swindon

Katie Barnes, Warwick

Shaun Booth, Sheffield
Lifetime Achievement Award
Lisa Crook
Due to the sheer volume of entries received, Scratch magazine is unable to offer individual feedback on 2018 placings to entrants.
Scratch encourages all techs, salon owners and bloggers to enter next year's Scratch Stars Awards and join us in a nail industry celebration at the Scratch Summer Party on Sunday 15 July 2018.
For ticket and event details, click here. Limited earlybird tickets available for just £50 + VAT!
For further awards updates, search for #ScratchStars18 on social media.
Sign up to receive more information