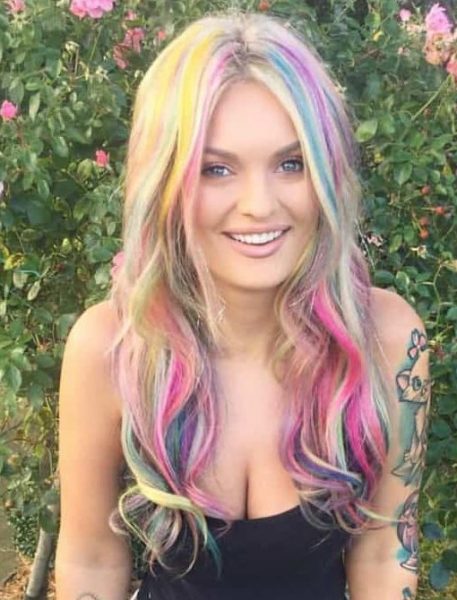 Scratch chats to Annabel Maginnis – brand ambassador, distributor, double salon owner and top tech whose a passion for all things nails has made her a social media star…
My career so far…
I've always loved having my nails done professionally. I spotted Kirsty Meakin's work and contacted her for an appointment and became a regular a client. I looked forward to every appointment!
I decided I'd love to try my hand at tekking as a career. I completed training with Kirsty and became her apprentice, before striking out alone.
My business started in my mother's kitchen, but I soon moved on to renting spaces. My husband, Elliot, kept encouraging me to take the plunge and open a salon. I was hesitant, but now I'm so happy that I took his advice. As well as opening my two salons – Annabel's and Bel's Beauty Bar –  it's been an amazing achievement to also become a stockiest and ambassador for Glam and Glits. Besides creating my own brand Glitterbels, I am planning on creating a nail art and design group courses and offering one-on-one training for technicians too.
I'm lucky to count 96,750 likes on Facebook, 266,000 Instagram followers and nearly 9,400 subscribers to my YouTube channel!
My drive
I eat, sleep and dream nails! When I leave work, I spend time looking at nail designs and thinking of nail art ideas. I love that you can apply a tip or a form to a nail, and these simple beginnings can transform into something amazing.
Our industry is growing so rapidly. The changes I have seen in the five year I've been immersed in it  have been amazing. I love checking out new products, exciting techniques and so many other technicians pushing themselves outside their comfort zones.
Social media success
Try to take the best photos you can. Make sure you have good lighting and try to be different in some way. It's difficult with so many designs already out there, but always experiment – you may just create something unique and amazing. My own social media started boomed when a set of blinged-out, Swarovski nails got noticed and shared by some larger accounts.
My Inspiration
I find looking back over old images of my work and comparing my skills to now, inspires me to keep going. I believe we never stop learning. I look up to other nail technician who have been in the industry much longer than myself and aspire to their level.
I think patience is key. Nothing can happen overnight; set your goal, keep working to it and never back down.
Creating my own brand…
It's something I've always wanted to do but never known where to start. With the Glitterbels brand, we'll be starting out with a range of core powders, including cover peach and pink, white and clear.
Later, we'll be introducing a gold, silver, and golden brown-black coloured acrylic. A range of monomers will also be available, including violet, clear, low odour and odourless. With such a choice, I hope there's one to suit every tech.
We'll be offering acrylic, nail art and 3D brushes, as well as nail art pigments, flakes and glitters.
Each item in the range will be added to the website bit-by-bit. We also have plans to keep growing, too.