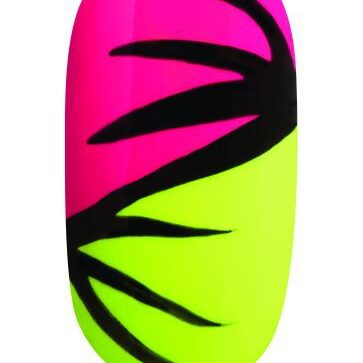 Get your clients prepped for an 80's party or a neon night with this zany nail look, courtesy of Orly.
You will need:
Orly Instant Artist in Hot Pink
Orly Instant Artist in Hot Yellow
Orly Instant Artist in Jet Black
Orly is available in the UK from Grafton International at www.graftons.co.uk 
Step 1
Paint half of the nail in Hot Pink starting in the middle of the nail working diagonally towards the nail tip. Paint the other half of the nail with Hot Yellow.
Step 2
Using a striper brush dipped in Jet Black, paint a diagonal line across the centre of the nail to cover where the Hot Pink and Yellow meet.
Step 3
Extend the Jet Black and create three lines following the pattern show above to create a fringed effect. Seal with topcoat.